The Expanse has been one of the most exciting science fiction television shows in recent years, with some comparing its potential to some of the classics.
The second season was so good that I ordered all 6 books so that I'd know what was going to happen. Let's take a quick look at some of the best female characters of the show so far. Chrisjen Avasalara, whilst being a great character, didnt quite make it to the 'hottest' list though. And don't call me sexist, a list of the handsomest fellows will soon follow.
The Expanse is one of the hottest shows on television, so it's only natural that it would also have some pretty hot characters right? Well here is a rundown of my favourite female characters of the show so far:
Gia
It's normally not a good idea by starting lists with prostitutes; but nonetheless, here we go. Whilst the role of Gia may have been a short one, she certainly left a lasting impression on fans of the first season of The Expanse. Sara Mitich is the Canadian actress with Serbian heritage, who played Gia, a prostitute on Ceres in the first season. We first met Gia when a client was murdered in her quarters and Miller and Havelock, Star Helix Security, come to investigate. Sara Mitich has been involved in other roles such as Candy in Joy Ride 3 and Lillian Moss on the Canadian TV series Murdoch Mysteries.
Juliette Andomeda Mao
Overlooking the fact that she almost wiped out Earth in the second season, Julie Mao was an interesting character and one plucky young lady. Well, before the protomolecule took over and gave her tentacles that is. Julie was the first character we met in The Expanse and her role in the story was a pivotal one, despite her not having much say in her own destiny. She was the rebellious daughter of billionaire Jules-Pierre Mao, whose role in the development and testing of the protomolecule becomes clearer as the second season develops. Julie Mao was portrayed by Florence Faivre, a French actress who developed a reputation in Thai movies and television, before moving to New York. It's no wonder that Miller developed a thing for her, and in the end, we're all really grateful that he did.
Naomi Nagata
I was really happy when I heard Naomi Nagata speak as it meant that the British accent survives in centuries to come. Naomi Nagata is a Belter who grew up on ships transporting materials around the solar system. She is a proficient engineer and saved her crew many times, before her role in the series turned from an engineer on the Canterbury, to a crew member of the Rocinante whose job it is to try and save the human race from what they believe to be a biological weapon. She is often touchy about her past and she hates violence, often having to keep her crewmates on a tight leash when their
ethics and morals start to run away with them.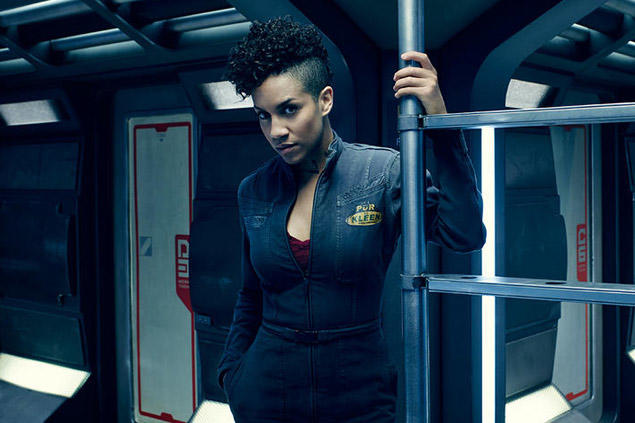 British actress and musician, Dominique Tipper, plays Naomi Nagata in both seasons of The Expanse. She is a vital member of the crew and she even makes mechanic jumpsuits look really hot.
Bobbie Draper
The casting of Frankie Adams was a brilliant choice for the role of Sergeant Roberta 'Bobbie' Draper. In the books, Draper is a 6ft Polynesian wrestler who doesn't take prisoners. Step forward New Zealand born Frankie Adams, who despite being only 22 has already tried her hand at amateur boxing and certainly looks more than capable as a Martian marine. She has Samoan heritage, which fits the bill for the character, and despite some claiming that she is too pretty for the role, her casting was approved by the writers of the show who have a big influence in the shows direction.
Character-wise, Bobbie Draper has gone from a hardcore Martian marine sergeant, intent on fighting marines from the UN, to a pawn in a galactic chess game. Once she is asked to lie about what happened to her squad, her allegiances are muddled and she ends up in the hands of Chrisjen Avasarala. She is headstrong, confident and not afraid of a fight.
Drummer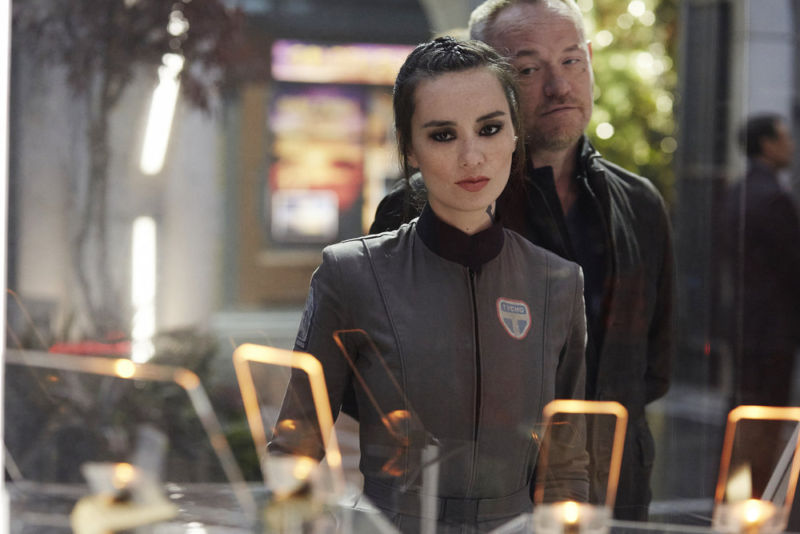 Drummer gets top spot for me as she is a total badass Belter. She is second in command of Tycho station, working under Fred Johnston, and her allegiances are never in doubt, even when the OPA try to turn her against Fred. In one scene she said that she would happily jettison people from an airlock if they tried to cross her, and she knows how to drink, party and play sports; my kind of girl. The character of Drummer is played by Cara Gee, a Canadian actress of Ojibwe descent. Whilst I am not entirely sure what that means, I like it nonetheless.
Agree? Disagree? Looking forward to seeing the list of hunkiest guys? Let me know in the comments or on our Facebook Page.